LEGO WeDo 2.0 is an amazing way for kids to build using LEGO bricks they know and love—then use visual programming to bring their creations to life and engineer incredible inventions.
Lego WeDo 2.0 is for kids from age 6-10 yrs. It offers simple hardware and software learning platforms. WeDo 2.0 comes with an easy-to-use visual programming environment that lets kids build creative solutions instantly.
Our students also participate in robotics competitions like the World Robotics Olympiad each year.
WeDo helps kids learn science, physical motion, and math concepts while completing coding games or interesting puzzles.
The LEGO WeDo 2.0 comes with three sensors that kids can attach to the main brick—including a motor, a distance sensor, and a tilt sensor—in addition to an LED light and a speaker. With just the brick and the three sensors, there's so much kids can do!
This course is ideal for kids age 6 or above. If you have your personal WeDo2.0 Lego kit then we can teach virtually as well.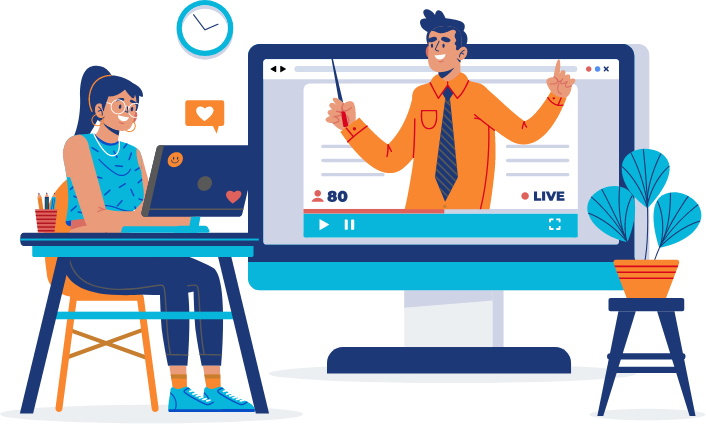 Introduction to block building models and coding
Introduction to motor and building related models along with different coding pattern.
E.g.  Dancing man, Fishing pole
Working with IR sensor, TILT sensor and programming related models.
E.g.  Goalkeeper, Locomotive train etc
Making different type of projects using sensors and motor combinations




Creating real time robots like obstacle avoider, Rocket launcher etc 
E.g. Dragon Ride, Flight Pursuit, Wall E, Zigzag Compressed
Preparation for participating in competitions like WRO, FLL and others 
In the end students will be assessed based on a certification project built on their own.Creating a robot using WeDo blocks and programming it for a given project.
E.g. Wind Turbine, Helicopter
[cwp_et_pb_layout_slider_standard next_label=" " prev_label=" " arrows_position="bottom-right" live_preview="on" show_pagination="off" custom_icon_color="gcid-8464f7fc-b60b-4406-9e4f-9cf626b6ab2e" custom_icon_bg_color="#FFFFFF" custom_border_radius="50%" loop_slider="on" rtl="on" num_items="3″ slide_center_item="on" slides_margin="20″ navmenu_wrapper_bg="#FFFFFF" navmenu_bg="#FFFFFF" num_items_tablet="2″ num_items_phone="1″ num_items_last_edited="on|phone" module_id="projectVideo_slider" _builder_version="4.16″ _module_preset="default" custom_button_prev="on" button_prev_bg_color="RGBA(255,255,255,0)" button_prev_border_width="0px" button_prev_border_radius="0px" button_prev_icon="$||divi||400″ button_prev_on_hover="off" custom_button_next="on" button_next_border_width="0px" button_next_border_radius="0px" button_next_icon="#||divi||400″ button_next_on_hover="off" custom_css_slide_arrows=" display: flex;|| " custom_css_slide_arrow_prev="margin-left:10px;" global_colors_info="{%22gcid-8464f7fc-b60b-4406-9e4f-9cf626b6ab2e%22:%91%22custom_icon_color%22%93}" button_prev_bg_color__hover_enabled="on|desktop" button_prev_bg_color__hover="RGBA(255,255,255,0)"][cwp_et_pb_layout_slide_item_standard admin_title="Video 1″ slide_type="content" content_slide="
Anajani made Dancing Man from Lego WeDo 2.0 robotics kit" _builder_version="4.16″ _module_preset="default" text_text_color="#FFFFFF" text_orientation="center" global_colors_info="{}"][/cwp_et_pb_layout_slide_item_standard][cwp_et_pb_layout_slide_item_standard admin_title="Video 1″ slide_type="content" content_slide="
Saarthak's Mr. Bunny with Motion Sensor" _builder_version="4.16″ _module_preset="default" text_text_color="#FFFFFF" text_orientation="center" global_colors_info="{}"][/cwp_et_pb_layout_slide_item_standard][cwp_et_pb_layout_slide_item_standard admin_title="Video 1″ slide_type="content" content_slide="
Ojas's WeDo creativity and code presentation" _builder_version="4.16″ _module_preset="default" text_text_color="#FFFFFF" text_orientation="center" global_colors_info="{}"][/cwp_et_pb_layout_slide_item_standard][cwp_et_pb_layout_slide_item_standard admin_title="Video 1″ slide_type="content" content_slide="
Shyla's Cooling fan" _builder_version="4.16″ _module_preset="default" text_text_color="#FFFFFF" text_orientation="center" global_colors_info="{}"][/cwp_et_pb_layout_slide_item_standard][cwp_et_pb_layout_slide_item_standard admin_title="Video 1″ slide_type="content" content_slide="
Shyla's amazing colorful snail" _builder_version="4.16″ _module_preset="default" text_text_color="#FFFFFF" text_orientation="center" global_colors_info="{}"][/cwp_et_pb_layout_slide_item_standard][cwp_et_pb_layout_slide_item_standard admin_title="Video 1″ slide_type="content" content_slide="
Automatic Bridge …which opens automatically for big ships" _builder_version="4.16″ _module_preset="default" text_text_color="#FFFFFF" text_orientation="center" global_colors_info="{}"][/cwp_et_pb_layout_slide_item_standard][cwp_et_pb_layout_slide_item_standard admin_title="Video 1″ slide_type="content" content_slide="
Ojas and Tanisi made awesome Robust Structure ..which can sustain Earth quake as well." _builder_version="4.16″ _module_preset="default" text_text_color="#FFFFFF" text_orientation="center" global_colors_info="{}"][/cwp_et_pb_layout_slide_item_standard][cwp_et_pb_layout_slide_item_standard admin_title="Video 1″ slide_type="content" content_slide="
Automatic pick and placer by Wedo2.0 lego kit" _builder_version="4.16″ _module_preset="default" text_text_color="#FFFFFF" text_orientation="center" global_colors_info="{}"][/cwp_et_pb_layout_slide_item_standard][cwp_et_pb_layout_slide_item_standard admin_title="Video 1″ slide_type="content" content_slide="
Automatic Egg paint Bot" _builder_version="4.16″ _module_preset="default" text_text_color="#FFFFFF" text_orientation="center" global_colors_info="{}"][/cwp_et_pb_layout_slide_item_standard][cwp_et_pb_layout_slide_item_standard admin_title="Video 1″ slide_type="content" content_slide="
WRO – WeDo 2.0 regular category 2019 – practice run" _builder_version="4.16″ _module_preset="default" text_text_color="#FFFFFF" text_orientation="center" global_colors_info="{}"][/cwp_et_pb_layout_slide_item_standard][cwp_et_pb_layout_slide_item_standard admin_title="Video 1″ slide_type="content" content_slide="
WeDo 2.0 Regular Category – National Round Practice round -2019″ _builder_version="4.16″ _module_preset="default" text_text_color="#FFFFFF" text_orientation="center" global_colors_info="{}"][/cwp_et_pb_layout_slide_item_standard][/cwp_et_pb_layout_slider_standard]
Let your child play and learn with Little Inventors